EP Multiply Conveyor Belts
Multiply conveyor belts with transversal steel reinforcement in the top cover.
EP carcass construction
100 % compatible with standard textile belts
Superior resistance against cut, impacts and tears
Same elongation and troughability of textile conveyor belts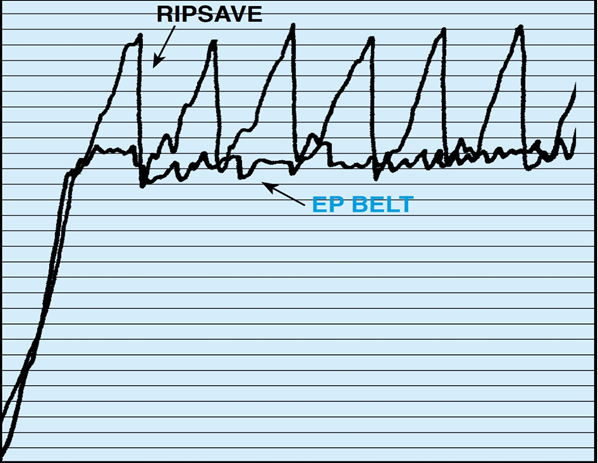 Product Description
RIPSAVE is an EP (polyester / nylon) multiply belt equipped with special and highly flexible transversal
steel reinforcement.
Steel wires properties are such as to guarantee the absence of any belt stiffening and the perfect integration with the fabric carcass.
The steel reinforcement assures the same performances as EP textile belts with higher resistance to cut, impacts and tears.
Thanks to its particular construction, RIPSAVE can be installed and joined as traditional EP textile belts.
The above graphic shows the differences in cutting resistance between RIPSAVE and standard EP belts with the same tensile strength.
Main Application
RIPSAVE shows its best performances in the handling of heavy sized materials, especially when the drop
height is considerable.
RIPSAVE special construction with transversal steel wires in the top cover reduces the possibility of damages on the fabric carcass caused by sharp stones, steel bars, wooden trunks.
RIPSAVE has been installed with excellent results in the following field of application:
CULLET RECYCLING
URBAN & INDUSTRIAL WASTE
MOBILE CRUSHER EQUIPMENTS
QUARRIES
WOOD INDUSTRY
GLASS WORKS