Pipex and Piflex are rubber conveyor belts designed for tubular conveyor systems equipped with a Textile or a Steel Cord carcass, respectively. The special production method for this important product is the result of exhaustive tests and proper theoretical evaluations which allowed to obtain Pipex and Piflex belts whose main characteristic is a significant transversal flexibility.
The tubular conveyor system is designed to allow the belt to wrap around the conveyed material while it remains flat at loading, discharging areas and takeup zone.
Consequently, over the full conveying length, Pipex and Piflex belts are shaped into a tubular section by idler frames properly arranged in hexagonal form. The advanced technology of Pipex and Piflex for tubular conveyor system includes all the typical advantages of traditional trough belts adding further characteristics which make its use suitable under technical and economical profiles. Past unsolved logistic and environmental protection problems can now easily faced and overcome. Main advantages of this technology are:
Horizontal and vertical curves with reduced bending radius
Little space requirement by compact plant design
Reduced spillage of materials loaded from the belt
Dust free transportation
Low maintenance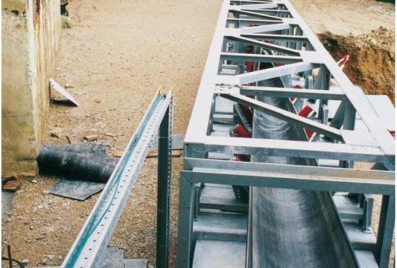 Application Fields
Pipex and Piflex tubular conveyor belts are high technology products designed upon customers specific requests to properly work as per the operational characteristics of the plant where they will be installed.
The rubber covers quality is studied and developed to meet the specific needs of the conveyed materials.
The environmental regulations introduced in the last years require the industries to redraw the use of the plants for the transportation of dusty materials; the tubular belts plants are the most suitable to the handling of those materials where a special care to the environmental protection is needed (developed areas, parks etc.)
Some products affected by the presence of humidity, such as cement, meet in the tubular conveyor belt system the right technology for their transport in open areas such as loading and unloading wharfs.
PIPEX and PIFLEX give the maximum of their potential in the fields of:
Cement factories
Power plants
Ports
Steel factories and any place where environmental impact must be reduced and/or where obstacles must be got round.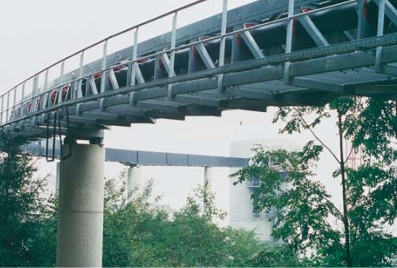 Design Details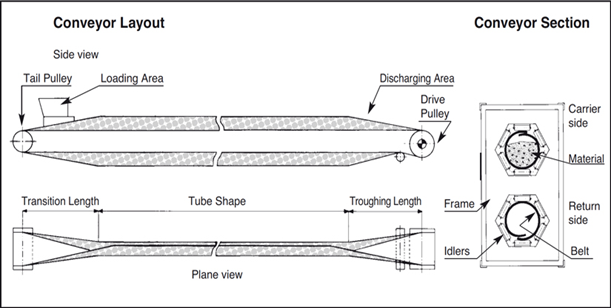 This page shows the layout of the main components of a tubular conveyor belt. Pulleys and take-up devices are the typical one of a standard troughing belt while the development of the plant is totally different because the belt, instead of leaning against the idlers, wraparounds by idler sextines placed perpendicularly to the belt and supported by purpose-made panels. As per the conventional troughing conveyor belts, it is worth to design the conveyor plant in accordance with the characteristics of the belt to adopt, especially keeping into consideration the modulus of elasticity of the carcass material.
From that derives transition lengths, bending radius as well as the take-up lengths. Where possible, depending on the centre-to-centre distance and the available space for take-up, it is recommended to adopt Pipex textile belts (see also: Texter textile belts) that, because of the reduced modulus of elasticity, allow short transition lengths and reduced bending radius. On the contrary, when the centre-to-centre distance requires an unacceptable take-up run, it is better to choose the Piflex tubular belt (see also: Siderflex steel cord belts) made of a steel carcass requiring wider transition lengths and bending radius.
A wrong evaluation of transition lengths and/or bending radius may cause an incorrect closure of the belt and its premature damaging.
To obtain a perfect performance it is furthermore essential to choose the pipe diameter keeping into consideration both the requested capacity and the size of the material; overfilled pipes or too big material lump sizes may determine an obstruction of the materials among the idlers and the damaging of both the belt and the steel structure.
Cover Characteristics
WEAR RESISTANT
CL (L grade ISO 10247) Standard wear resistant compound.
CL is a cover rubber recommended for all groundapplications and for the majority of materials, where resistance to abrasion is required. Conveyor belts with CL compound are suitable to handle heavy and/or abrasive materials such as gravel, stone, coal, cement.
EC (D grade ISO 10247) Extra wear resistant compound.
EC is a superior quality cover rubber, especially designed where maximum resistance to abrasion is required. The characteristics of resistance to cut, tear and ozone cracking, together with long duration, improve the quality of this cover. EC is expressly designed for steel works and iron mines; however, it is also recommended for heavy lump ore, coke, salt, limestone.
SELF-EXTINGUISH
BS – Self-extinguish compound.
BS is a cover rubber designed to service both underground and above ground application where safety is fundamental and fire risk is high. It is recommended in particular for coal and potash applications. As self-extinguish and antistatic compound, BS is designed according ISO 340 and ISO 284 or equivalent.
AG – Self-extinguish and oil resistant compound.
AG is a nitrile compound suitable for conveyor belts and bucket elevator systems of cereal terminals and silos. AG cover rubber provides superior resistances to vegetable oils and animal fats; it is also self-extinguish and antistatic according to ISO 340 and ISO 284 or equivalent in order to guarantee high safety to the conveyor plant.
OIL RESISTANT
OM – Vegetable oil resistance compound.
OM is a cover rubber that guarantees a good belt resistance against the chemically aggressive effects due to the transport of materials with moderate oil presence, like corn, fertilizers and general vegetable oily materials. OM is expressly designed to resist the terpene of wooden chips and to convey solid urban waste materials.
HEAT RESISTANT
CX – High temperature resistance.
CX is a rubber compound assuring a medium degree of abrasion resistance; it is formulated for continuous service at temperature of 130 °C with peaks of 150 °C.
MX – High temperature resistance.
MX is a rubber compound assuring good degree of abrasion resistance; it is formulated for continuous service at temperature of 150 °C with peaks of 180 °C.
TX – Superior temperature resistance.
TX is a cover rubber that assures the maximum heat resistance for a rubber compound. It is designed to resist at maximum working temperature of 200 °C with peaks of 300 °C.
All types of conveyor belts produced by SIG SpA are realized according to ISO standards; furthermore they meet also the requirements of equivalent UNI, DIN, BS, NF, ASTM and RMA standards.
For particular applications, please contact our sales dept.