Steel Cord Conveyor Belts
The carcass of SIDERFLEX belts consists in a brass coated steel fabric (see picture below) with low elongation characteristics which gives to the belt a high tensile strength.
The greatest advantage of the low elongation for rubber conveyor belts with a center distance not extremely long is the possibility to replace textile belts without significant modifications of the conveyor system.

This type of carcass gives to SIDERFLEX belts special qualitative characteristics of:
Excellent cut and tear resistance
Low elongation
High tensile strength
Good impact resistance
Excellent longitudinal flexibility
Very good troughability
WARP CHARACTERISTICS
Warp refers to longitudinal steel cords which characteristics of resistance and elasticity define the running properties of the belt.
SIDERFLEX IW – HE series, provided of open type warp cords with increased elongation, have a longitudinal elasticity bigger than the standard steel cord conveyor belts. These performances allow to SIDERFLEX belts an easy replacement both of textile and steel cord belts.
SIDERFLEX ID serie realized with regular warp cords has the same carcass characteristics of steel cord conveyor belts according to (ex) DIN 22131 and ISO 15236-2 type A1 (see Tab. on page 8).
Equipment Design
LONGITUDINAL FLEXIBILITY
The presence of a single ply and the special warp cords construction give to the SIDERFLEX IW & HE belts a considerable longitudinal flexibility. At the same condition of fatigue stress this properties allows to use smaller pulleys than equivalent textile multy-ply.
It means that in existing plants it is generally possible to replace the original textile belts with SIDERFLEX IW & HE without any plant modification.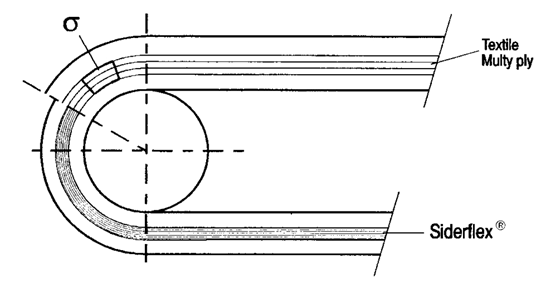 TROUGHABILITY
For a long time the majority of trough idlers have been produced with angle of around 20°.
Due to the increasing demand for higher handling capacity, the angle of the idlers went up in value reaching 30-35° end even more. SIDERFLEX belts, in all series and style, thanks to their transversal flexibility will trough perfectly up to 60° without any problem.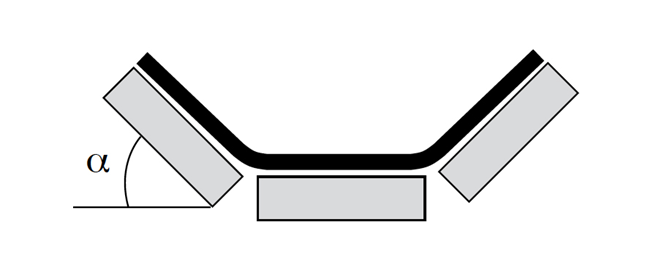 ELONGATION & CREEP
These mechanical properties refer to the elastic characteristics of cords and to our method of production defined to obtain the best performances of the final product. Low elongation is one of the most important points of SIDERFLEX belts: laboratory tests made on rubbercoated cords give value of elongation as shown in the following table:
SIDERFLEX serie
Elongation at
reference load
Elongation at
breaking load
IW-HE
0,40 %
4 %
ID
0,25 %
2 %
Reference load: 10% of nominal tensile strenght
Creep is the permanent elongation that the belt shows in the first period of life. The great advantage of SIDERFLEX in comparison with textile conveyor belts is a very reduced creep, generally negligible. This property helps maintenance because the belt can be vulcanized just one time on original installation without need of new joint after a certain period of time.
CUT & TEAR RESISTANCE
Longitudinal cuts and tears are always a cause of belt replacements both in textile and conventional steel cord belts. SIDERFLEX, with its steel weft, is more resistant against this kind of damages. Indicative values of cut resistance in kN for SIDERFLEX IW belts compared with multiply textile belts are shown in the following table:
Belt
range
S Method
D Method
IW
EP
IW
EP
500
2,5
0,8
4,8
2,5
630
2,8
0,9
5,1
2,8
800
3,4
1,0
6,5
3,4
1000
3,6
1,2
6,7
3,9
1250
3,8
1,3
8,0
4,2
1600
3,8
1,5
8,0
4,6
IMPACT RESISTANCE
SIDERFLEX has high impact resistance. The effect of oversized material falling on to the belt at the loading point is absorbed by the flexible steel carcass and the high quality level of rubber used.
CORROSION PREVENTION
Various properties of our SIDERFLEX assure a superior resistant against corrosion of steel cord:
The adhesion between steel cord and core rubber is obtained through a chemical reaction during the curing process between special chemical compounds present in the rubber and brass (Cu/Zn alloy) covering the cords. In comparison with other coating method (tipically Zn), brass assures an higher and more constant adhesion to rubber.
The open cord construction for IW, HE carcass and the special design of regular cord used for ID carcass allow the penetration of rubber up to the center of the cords, virtually eliminating the capillary action of moisture.

During the vulcanizing process, the combined effect of heat and pressure produces the flowing of rubber into the cord center and the top and bottom cover become "one" with the steel carcass locked in the center. In conclusion, no ply separation is allowed.