At a glance:
Digital 2-wire transmitter for Pt100 and Pt1000 with wireless communication
The APAQ R130 is a modern transmitter with high reliability and
great performance. External influences such as ambient temperature, vibration, moisture and EMC interference have minimal influence on the measurement result, thanks to the robust design.
What characterizes APAQ R130 is simplicity. You can easily configure the transmitters wirelessly via NFC with your smartphone or tablet. There is no need for expensive configuration tools or fixed workstations for transmitter configuration.
Technical data:
Type: Rail mounted
Input: Pt100, Pt1000
Type of transmitter: Digital
Output: 4-20 mA
Measuring range: –200…+850 °C / -328…+1562 °F
Sensor error: NAMUR NE43
Adjustments – Zero point: Any value within range limits
Adjustments – Minimum span: 20 °C / 36 °F
Ambient temperature: –40…+85 °C / -40…+185 °F
Humidity: 0…98% RH (non-condensing)
Vibration: IEC 60068-2-6,10 g
EMC: EN 61326-1 and EN 61326-2-3
Isolation: Unisolated
Power supply: 6…32 VDC
Long-term stability: Max. drift ±0,05 % of span/year
Typical accuracy: Max. ±0,15 K or ±0,15 % of span
Adjustable filtering level: 0,4 to 26 s
Configuration: App INOR Connect*
Wireless communication: NFC®
Dimensions: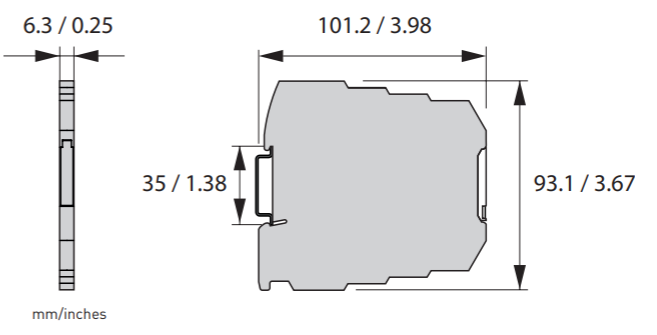 Connection diagram: